Why invest in this exceptional offering?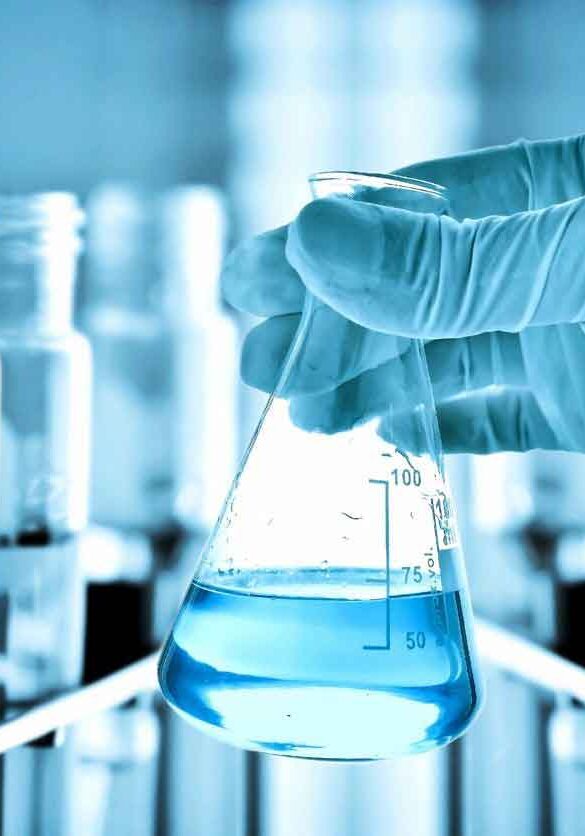 It's an agile application of diverse technologies, enabling the use of various feedstocks and biomass.

Do your personal goals include participating with the biotech industries?

Are you ready to make a positive impact affecting yourself, your children, and your grandchildren?

So, we ask again: Why Invest in this special offering?
To Answer the Call to Action: To Make a Tangible and Positive Difference
This Offering is for Accredited Investors Only
Under federal securities laws, only accredited investors may participate in certain securities offerings, including private offerings. One reason these offerings are limited to accredited investors is to ensure that all participating investors are financially sound and sophisticated to enable them to fully understand their own risk tolerance and fend for themselves or sustain the risk of loss, thus rendering unnecessary the protections that come from a registered offering. These offerings involve unique risks, and you should be aware that you could lose your entire investment.
SEC Regulation D, Rules 501(a), and 506(c) stipulate this requirement. Title II of the JOBS Act also stipulates this requirement to enable the Offering's participation in an internet environment.
Unlike offerings registered with the SEC in which certain information is required to be disclosed, companies and private funds, such as a hedge fund, venture capital fund, or private offering, engaging in these exempt offerings do not have to make prescribed disclosures to accredited investors. Even so, CBR will make every effort to provide full disclosure throughout the due diligence process.
Please Note: Missouri CBR Joint Venture LLC and its HBR division will employ the same CBR process. Occasionally, when referring to the current offering, Missouri CBR Joint Venture, LLC may be referred to as "CBR" for brevity.
The CBR's vertically integrated process allows for the processing of multiple feedstocks and biomass. Processing may be via individual "lines', or with multiple feedstocks or biomass running concurrently on multiple parallel lines. The financial model depicted below represents one feedstock (non-GMO Heart Healthy Corn Hybrid) and two types of biomass (Sweet Cane Sorghum and Corn Stover).
As this process is novel and not attempted by other entities, we employed two independent accounting firms to develop our figures and used the USDA's ASPEN Computer engineering model. The accuracy of this model is dependent upon the day the input variables are updated since they change virtually daily. Even so, we feel this is a representative model to give a good picture of a CBR's performance.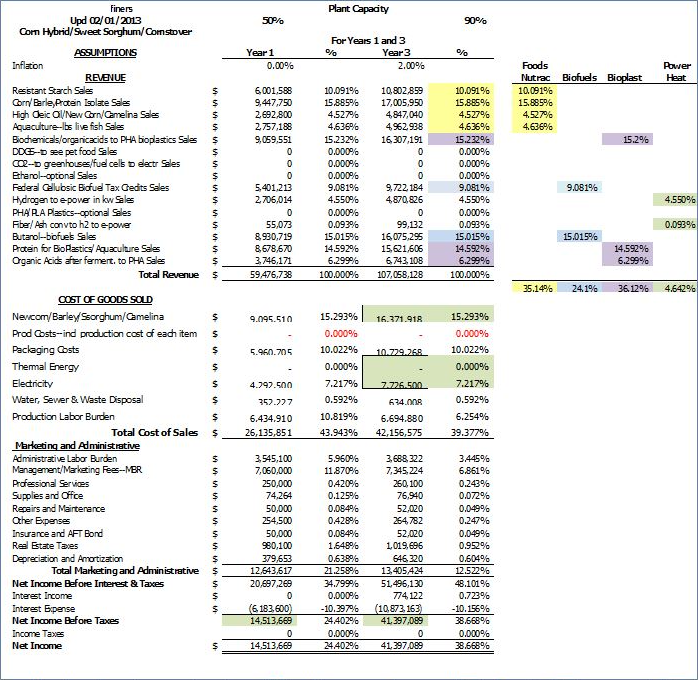 From this chart it can be seen that almost 72% of the net profits are realized from the food, nutraceuticals, and bioplastic products as opposed to only 24.1% derived from biofuels. However, if RIN EPA credits are included, biofuel profits will increase over double or increase to over 50% of the net annual revenues.
This data was compiled by prior research entities through combining the financial analysis of multiple, separate financial models completed by accounting and financial consulting firms, to include Byrne & Co. (for the biofuels phase) and RSM McGladrey and the USDA (for the food phase). These models combine both financial models which show the highest returns through such combination.
Summary of Offering and Nature of Equity
The following graphic is an excerpt from the Missouri CBR Joint Venture LLC Private Placement Confidential Memorandum (PPM) depicting some of the details of the Offering.  References to additional sections, exhibits, etc. made within refer to material contained within the PPM.
ISSUER/COMPANY: MISSOURI CBR JOINT VENTURE LLC, A MISSOURI LIMITED LIABILITY COMPANY
Unit Price:

Phase 1 (also referred to throughout as the "Minimum Offering") - $2.00 per Unit;
Phase 2 (also referred to throughout as the "Mid Offering") - $5.00 per Unit;
Phase 3 (also referred to throughout as the "Maximum Offering") - $10.00 per Unit

Units Offered:

Phase 1 – 2,500,000 Units (preferred);
Phase 2 – 5,000,000 Units (preferred);
Phase 3 – 7,000,000 Units (common).

Minimum Investment and Unit Blocks:

Phase 1 – $50,000 – all Units sold in blocks of 25,000 Units
Phase 2 – $50,000 – all Units sold in blocks of 10,000 Units;
Phase 3 – $50,000 – all Units sold in blocks of 5,000 Units

Units to be authorized

33,000,000 Units

Units to be Issued

32,000,000 Units

Offer Expiration:

This Offer expires 180 days from the initial offering date ("Final Offering Date")

Offering and Contribution Contingent:

Phase 1 of the Offering is contingent on the Company securing at least $5,000,000 in subscriptions ("Minimum Offering Amount"). Such funds received will be held in escrow until the total of such Minimum Offering Amount of $5,000,000 is subscribed to and for which the consideration for such Units is received by the Company on or before the Final Offering Data, unless extended. If the total Minimum Offering Amount is not subscribed to by such Final Offering Date, unless extended, then such funds shall be promptly returned to the Minimum Offering Investors without accrued interest thereon and without deductions.Phase 2 of the Offering is contingent on the Company securing at least $25,000,000 in subscriptions ("Mid Offering Amount"). Such funds received will be held in escrow until the total of such Mid Offering Amount of $25,000,000 is subscribed to and for which the consideration for such Units is received by the Company on or before the Final Offering Data, unless extended. If the total Mid Offering Amount is not subscribed to by such Final Offering Date, unless extended, then such funds shall be promptly returned to the Mid Offering Investors without accrued interest thereon and without deductions. Phase 3 Offering is contingent on the Company securing at least $70M in subscriptions ("Maximum Offering Amount"). Such funds received will be held in escrow until the total of such Maximum Offering Amount of $70M is subscribed to and for which the consideration for such Units is received by the Company on or before the Final Offering Data, unless extended. If the total Maximum Offering Amount is not subscribed to by such Final Offering Date, unless extended, then such funds shall be promptly returned to the Maximum Offering Investors without accrued interest thereon and without deductions. Funds invested in the Offering Phase 1, Phase 2, and Phase 3 Offering WILL NOT BE EXPENDED until such time as the respective total amounts are raised under each of these Phase offering amounts, or until the Final Offering Date.

Eligible Offerees:

The Offer is only open to 1) accredited investors, and 2) sophisticated investors. The Company and the board of managers of Company ("Board of Managers"), in its sole and absolute discretion, may deny or reject any offer or subscription from any person, entity or organization without exception, and hereby provide notice of their absolute right and privilege to do so. See "Suitability Standards" below.

Closing:

Company will close with each investor individually.

Risk Factors:

An investment in the Units is speculative and involves a high degree of risk and uncertainty. See the "Risk Factors" Section below.

Admission:

Following verification of Accreditation, investments shall be made by submission to the Company of a Subscription Agreement (with Investor Questionnaire) in the form included in the Subscription Packet attached as Exhibit M, and a check payable to Company in the amount of each investor's investment amount. All investors must also complete and provide to Company a joinder to the Operating Agreement (defined below) in the form included in the Subscription Packet attached as Exhibit A.

Operating Agreement:

Units purchased by offerees/investors ("Investors") will be subject to the Company's Operating Agreement (the "Operating Agreement"), a copy of the form of which is attached to this Memorandum as Exhibit G and which provides that the Company is to be managed by its Board of Managers, which shall have broad authority, power and discretion to make day-to-day and operational decisions incident to the management of the Company, and which authority and discretion is often exclusive to the Manager and exercised in its sole discretion. The Operating Agreement does provide that many actions, decisions or issues of and for the Company require specific consent or approval from certain Members.

Management:

The Company is a manager-managed limited liability company.Subject to the Operating Agreement's management provisions and required consents for certain actions or decisions, the Board of Managers, may make decisions for, act on behalf of and otherwise bind the Company provided that such acts or activities are customary or incident to the management of the Company's business and objectives.

Use of Proceeds:

Phase 1 – working capital, costs associated with this offering, reorganization expense reimbursement licensing costs, and legal defense funds;
Phase 2 – completion of research and development pilot/demonstration phases of community bio-refinery ("CBR") technologies, development of new and improved processes and technologies;
Phase 3 – design, construct and operate a commercial CBR Food/Nutraceutical, or, Biofuels Manufacturing Facility ("Commercial CBR"), or Community BioRefining Facility (CBR) (See Supplement 1). Under the Operating Agreement, the Board of Managers has broad discretion over the use, application, and expenditure of the Company's cash, assets, and capital.

Distributions

As described in the Operating Agreement, Company will distribute net revenue cash flow as the Board of Managers determines which may be available from time to time for distribution to the Members in proportion to their respective number of Units at the time of distribution. Upon completion of the winding up of the affairs and business and liquidation of the Company, after payment of all outstanding expenses and creations of reserves, the remaining cash and property will be distributed to the Members in accordance with their Capital Accounts.

Allocations

As described in the Operating Agreement, generally, net profits and net losses shall be allocated to the Members in proportionate to the Units that each Member owns. The Operating Agreement also provides for numerous special allocations that may require items of income, gain, loss or deduction to be specifically allocated among the members in order to satisfy requirements of the Internal Revenue Code

Restrictions on Transfer

The Units are subject to restrictions under both the Operating Agreement and applicable securities laws. In addition, the Members are not given the right to require registration of their Units under the Securities Act or any securities laws. The Company has no present intention to register the Units for resale by Members and, in view of the nature of the investment; it is highly unlikely that there will be any such registration in the future.

Fees, Commissions, Compensation

The Board of Managers will receive fees for serving on the board and officers will receive salaries, bonuses and other appropriate compensation related to the operations of the Company. Under no circumstances will commissions, fees, bonuses, or compensations be paid by the Company based upon the success of the Offering. The Company will not engage professional and licensed finders or broker-dealers who may receive commissions and broker fees under such engagement agreements.

Brokerage Commissions

Company has not engaged a broker or finder in connection with the Offer and questions concerning the Offer can be directed to officials of Company.

Parent Company Equity

This Offering in no way involves the availability of its equity or suggests a pathway to acquire such equity.

Nature of Phase 1 and Phase 2 Preferred Units

Phase 1 and Phase 2 Units shall be preferred in nature, with preferred traits/characteristics as follows:
1. repayment of the investor's investment with an associated interest rate of 5%;
2.interest shall commence accumulation upon commercialization of Missouri CBR JV LLC;
3. such repayments shall occur until the original investment has been repaid, at which time such Units shall revert to common Units;
4. such repayment period shall not exceed seven years following commercialization;
5. repayments shall commence upon commercialization of Missouri CBR JV LLC, from its net revenues, and, prior to payment of normal revenue distributions.
Community Bio-Refineries LLC (Community Bio-Refineries, or CBR) was established to further the research and development of Advanced Biofuels. Missouri 11 Sponsors LLC ("Missouri 11") was established to help place the founder of the original Energenetics companies (Sammy Mayfield Pierce) into Chapter 11/Re-Organization bankruptcy in response to a hostile take-over bid.  Mr. Pierce entered into a biofuel consulting agreement with Missouri 11 effective on June 5, 2018 to enable Mr. Pierce to provide biofuels consulting services to Missouri 11, a role intended to continue until the Payment Plan under the Chapter 11 bankruptcy was paid in full.  The approximate total amount due under the Payment Plan was $125,000.00 payable over five years without interest. However, the unexpected passing of Sammy Pierce resulted in the Chapter 11 action being dismissed.  Missouri 11 also raised $25,000.00 to sponsor a qualified securities law firm to prepare a Regulation D 506 Private Offering (Reg D 506(c)) internet private offering to raise a minimum of $50 million under such offering(s).  These offerings will be done at the joint venture plant or factory level with 50% of the ownership to be held by Community Bio-Refineries, LLC (the parent company) and 50% to Developers** and Investors in such CBR Joint Venture.  The offering(s) will capitalize on growth opportunities by participating with viable venture partners in selected markets and product applications.  Community Bio-Refineries will retain 50% controlling interest in the joint venture opportunities in the local CBR, while allowing joint venture partners to contribute plant and equipment and hold liens thereon, and provide identified professional assistance.  See below for the conceptual diagram of this initial business model. Longer-term, as Community Bio-Refineries gains financial strength, the strategy is to involve joint venture partners on a select basis; instead, developing the new opportunities with in-house resources and other financing options.
**The participation of Developers was necessary under original Private Offering rules; however, since promotion of Private Offerings via the internet has been authorized by Congress via the JOBS Act, Management anticipates a minimum - if any - requirement for their participation in our current Private Offering.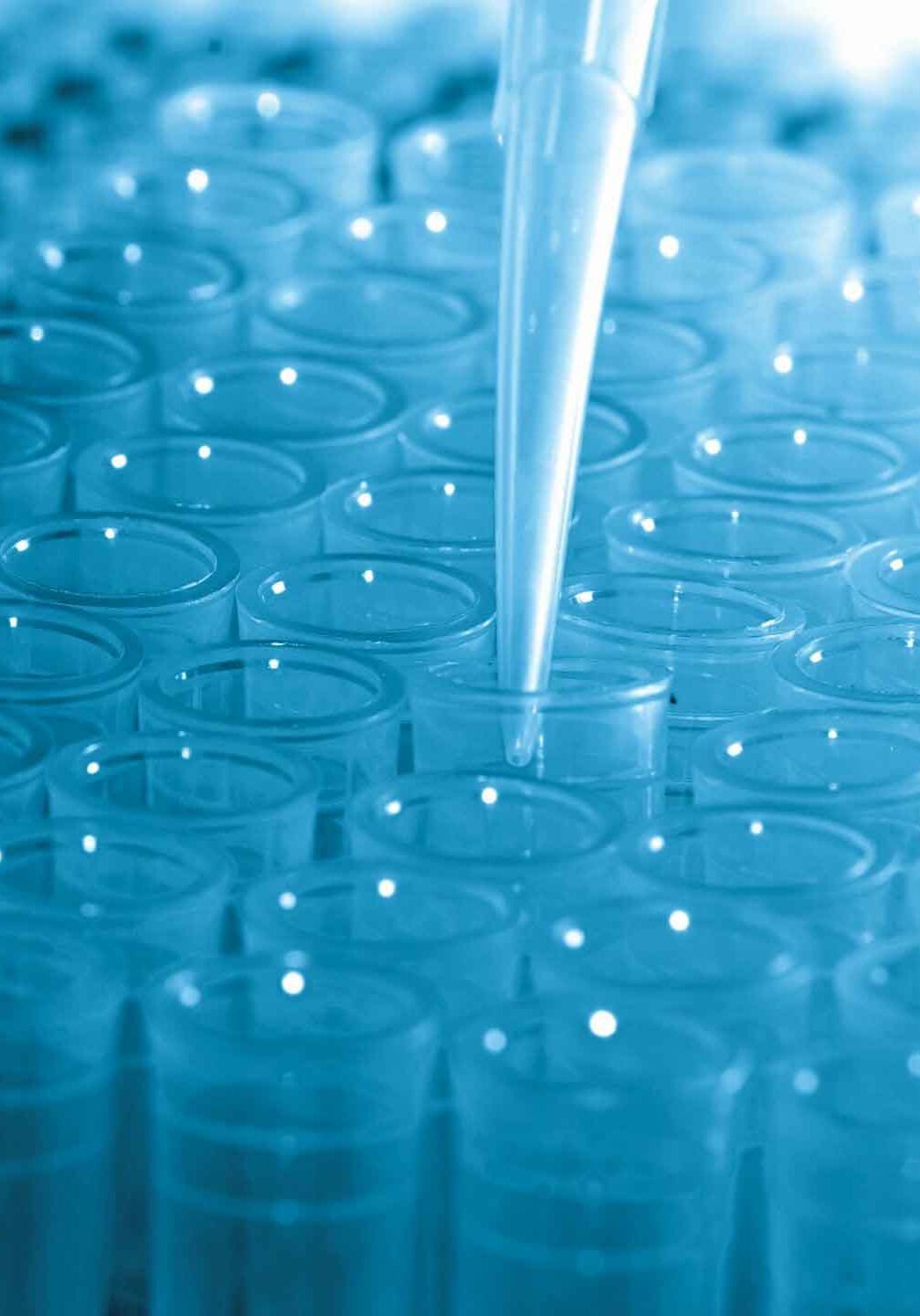 Community Bio-Refineries, LLC Board of Managers
| | | |
| --- | --- | --- |
| President/COO/Secretary | 1 Board Member | Scott Hewitt |
| Director (EGE Primary Beta Rep) | 1 Board Member | Gary Halstead |
| Director (MO-11 Rep) | 1 Board Member | Greg Adamson |
| Director (EGIT Rep) | 1 Board Member | Thomas Ely |
| Director (CTO/Western States Opns/HBR) | 1 Board Member | Vincent James |
| | |
| --- | --- |
| CBR JV Investors | 2 Board Members |
| JV Contractor(s) | 1 Board Member |
| Chairman | 1 Board Member (appointed by CBR BioRefineries - votes only if tie) |
* The Company will start small with a few board members and adjust as necessary as the CBR Project unfolds.
Community Bio-Refineries LLC, Board of Advisors currently has 16 members representing a wide range of specialties and expertise, including Securities Counsel and General Counsel, complex management (operational, facilities, personnel, financial).
Community Bio-Refineries Joint Venture Structure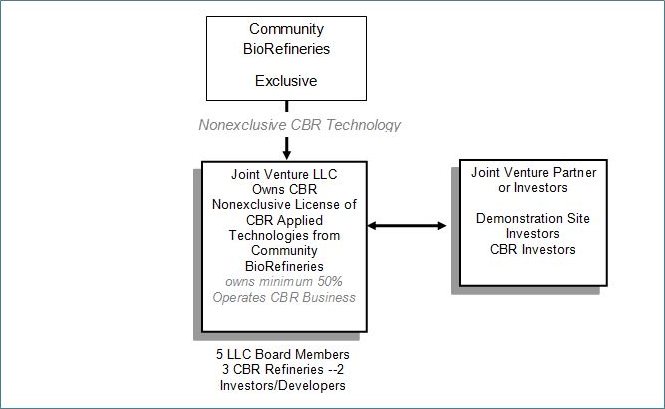 Leadership -Current Management/Key Technical Advisors
The CBR Project will have a reliable, experienced management team with a vision and strong execution capability. As a Stage 2 start-up company, Community BioRefineries will collaborate with scientists and professionals in various fields, rather than hiring full-time employees.
This will allow the process and product development to be accessed without committing to expensive employment contracts at the outset. As the CBR Project proceeds through the Pilot/Demonstration site and commercialization, it will continue to involve vital technical advisors and consultants, as discussed above. The CBR Project plans to add management personnel with relevant business, industry, and technology and market experience - recruited from the top companies in the country.
To date, the company has assembled a staff of experienced scientists, marketing, engineering, and legal professionals, many of whom serve as outside consultants to the company, except for those full-time independent consultants shown below. These include:
Community Bio-Refineries Roles and Responsibilities
Roles and responsibilities for Community BioRefineries will be executed initially through a combination of hired management and contracted professional assistance. Once the needed capital is obtained, the following personnel will be added full-time: two full-time technicians, a biochemist, and a microbiologist.
Also, microbiologists and bio-chemical PhDs from Ohio State University will be retained part-time to complete the biochemical fermentation Pilot/Demonstration site. At least one senior manager (e.g., New Business Director or Controller) and a corporate sales director will also be added. One or several process and/or and civil engineering firms will be retained to complete engineering designs of the initial CBR facility.
The CBR Boards of Managers and Advisors will provide initial management and guidance to Missouri CBR Joint Venture, LLC, throughout Phase I, II, and possibly Phase III. We expect to fill organic management positions by the completion of Phase I, continuing through Phase II. We anticipate that by Phase III, the key positions will be filled. Missouri CBR Joint Venture, LLC shall select its own Board of Managers, including participation from the parent company (CBR) and investors. These relationships are more fully described within the Business Plan and Private Placement Confidential Memorandum.
Community Bio-Refineries LLC and Environmental, Social and Governance (ESG) Issues and Criteria.
Environmental, social, and governance (ESG) criteria are a set of standards for a company's operations that socially conscious investors use to screen potential investments. Environmental criteria consider how a company performs as a steward of nature. Social criteria examine how it manages relationships with employees, suppliers, customers, and the communities where it operates. Governance deals with a company's leadership, executive pay, audits, internal controls, and shareholder rights. ESG investing is sometimes referred to as sustainable investing, responsible investing, impact investing, or socially responsible investing.
Until such time as the proliferation of CBR and/or HBR-focused plants no longer require outside capital to fund such facilities, Community Bio-Refineries must remain mindful that investor concern over ESC criteria has evolved to make many investment decisions based partially, if not entirely, upon these criteria.
To that end, CBR (parent company) and all CBR/HBR facilities over which CBR (parent) maintains 50% or greater ownership shall conduct their business activities as they pertain to ESG criteria as follows:
Environmental criteria may include the company's energy use, waste, pollution, natural resource conservation, and treatment of animals. (The criteria can also be used in evaluating any environmental risks a company might face and how the company is managing those risks.)
The very structure of the CBR Process creates an environmental model which far exceeds that of most other companies, particularly within the biofuels industry and has been pointed out by EPA officials as a standard by which all companies should conduct their operations.  Even so, we must never take our responsibilities for granted.
Social criteria look at the company's business relationships. Does it work with suppliers that hold the same values as it claims to hold? Does the company donate a percentage of its profits to the local community or encourage employees to perform volunteer work there? Do the company's working conditions show high regard for its employees' health and safety?
CBR shall, in all circumstances, conduct its business with vendors and contractors without regard to race, color, or creed – without exception.  Community Bio-Refineries LLC (parent) has emplaced a program to give back a portion of its net revenues to the communities which have supported the placement and operation of CBR/HBR facilities.  Such funds may not be used in any way for the benefit of the CBR/HBR facility and use of such funds shall be determined by community itself for whatever application is most appropriate to their circumstances. Volunteer work by any employee shall be exclusively based on the desire and availability of said employee toward whatever cause or event is important to the employee, provided such volunteer work is not in support of any activity which is contrary to the smooth or efficient operation of any CBR-related plant.  CBR management, at all levels, shall absolutely not engage in any activity designed to influence the political perspective, preference or legitimate action of any employee.  Health and safety concerns are, by design, built into each CBR/HBR facility to remain in compliance with OSHA, EPA and USDA standards.
As for Governance criteria, investors may want to know that a company uses accurate and transparent accounting methods and that stockholders are given an opportunity to vote on important issues. They may also want assurances that companies avoid conflicts of interestin their choice of board members, don't use political contributions to obtain unduly favorable treatment and, of course, don't engage in illegal practices.
All fiscal activities and record keeping shall be the purview of a third-party accounting firm which specializes in corporate level financial activities.  CBR is a Limited Liability Corporation and shall remain, for the foreseeable future, a private organization and shall keep its internal records, including investor data, financial data, and any sensitive scientific information and materials private.  Upon counsel review and decision, CBR will make such records available to such parties as may be legally required.  Board member selection shall be based upon personal qualifications, past support of the company, and potentially (as appropriate) appointment by an investor group provided that the appointment is not in conflict with the company.
So, you want to invest in us? Excellent! We welcome you!
But before you do, we want to make doubly sure you are clear about our overall structure, how your investment will be applied, and provide you the maximum amount of control allowable over this process.
Note: These relationships are discussed in much greater detail in the CBR Business Plan and the Missouri CBR Joint Venture Private Placement Memorandum (PPM).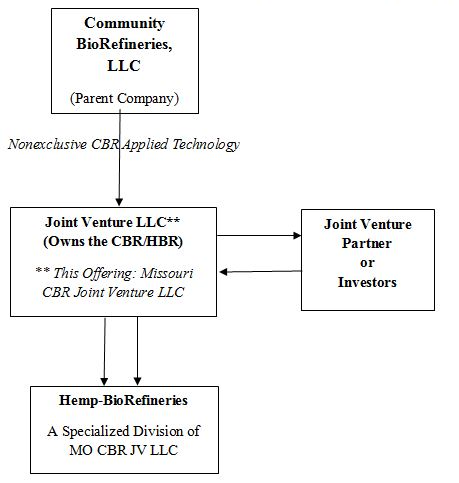 The parent company, Community Bio-Refineries, LLC, is NOT involved in this Private Offering.  Its Board of Managers has authorized none of its LLC Units for any offering; neither are they likely to be in the foreseeable future.
This offering provides the opportunity for the investors to specify whether they prefer their investment to create a traditional CBR facility to process principal feedstocks and biomass as its source materials; or to focus on the HBR aspect to process exclusively hemp/cannabis as its source material.
Missouri CBR Joint Venture, LLC, has been designated by the Board of Managers of Community Bio-Refineries, LLC, as the exclusive JV LLC which will have a division to create one or more Hemp-BioRefineries.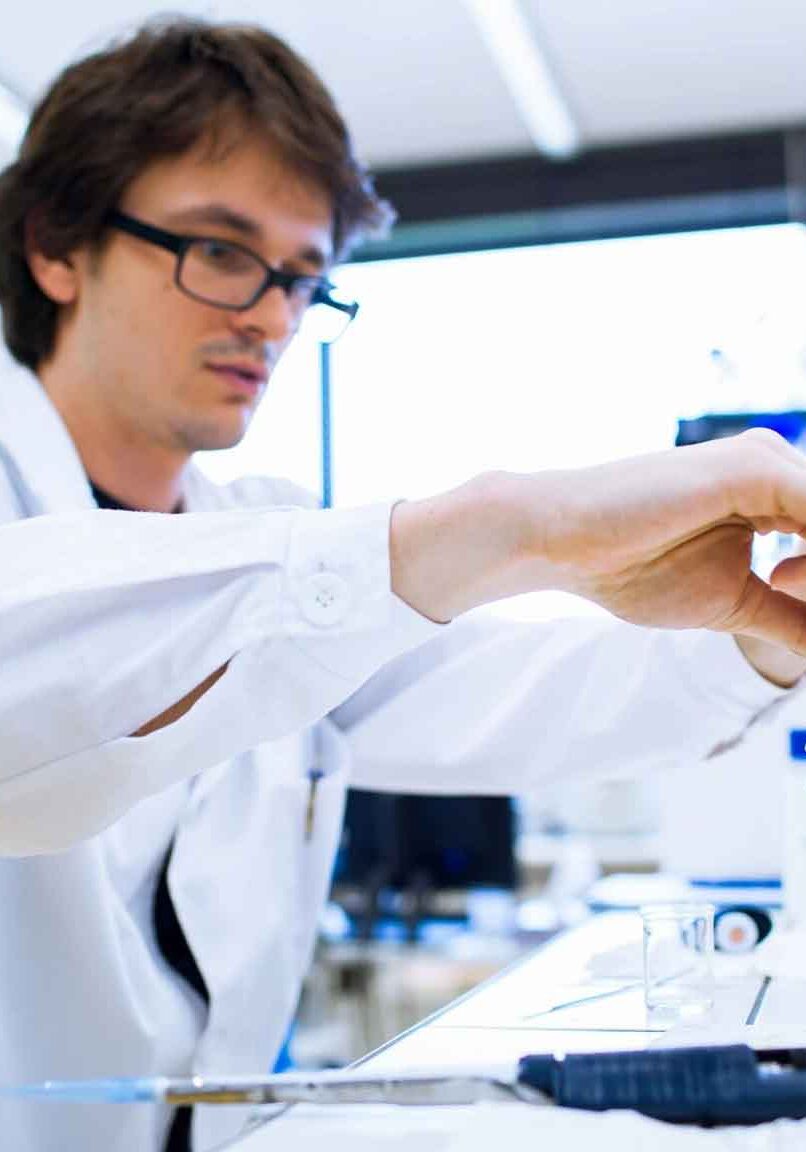 How will my investment capital be used, and what progress will be made with that capital?
Specific details are presented in the Company's offering document; however, all funds will be used to secure, develop, produce, promote, and provide an array of unique plant-based products from a commercial facility. The Offering will consist of three funding Phases:
The commercialization goals of the CBR project are as follows:
Is your Legal formation "clean" and in compliance with applicable law?
Community Bio-Refineries, LLC is a Missouri LLC and is the parent company. By its structure, CBR shall enter into Joint Ventures with investment entities to facilitate the commercialization of the CBR process.
The first of these Joint Venture entities will be "Missouri CBR Joint Venture, LLC" and shall likewise be a Missouri LLC.  To further facilitate the processing of hemp/cannabis products (if required) in those states where legal, the MO CBR JV, LLC has, as a division (extension) within its structure, created the Hemp-BioRefinery.
All HBRs, wherever the company and investors select, shall establish as a component of and develop under the MO CBR JV, LLC. Essentially, an HBR facility will be identical to a CBR facility but focused on a single feedstock/biomass.  All CBRs and HBRs shall operate within the mandates and constraints of the states in which they are established. The Private Offering is structured following SEC Regulation D, Section 506, and under Title II of the JOBS Act.
Why am I being offered a choice for which type of facility I wish to focus my investment on? What is the difference?
All investment funds from this Private Offering focus on Missouri CBR Joint Venture, LLC. The parent company, Community Bio-Refineries, LLC, has structured its commercialization efforts through one or more Joint Ventures, of which Missouri CBR JV, LLC, is one. (Please refer to "Investment Structure" for more details.) . Until very recently, hemp/cannabis was generally considered to be a prohibited material; even performing R&D on it was prohibited outside the federal government (which had little to no interest in doing so). Since late 2018, many of those federal restrictions have been lifted, and more than half of the states have now approved of cultivation, medical, and/or recreational use.
The management of CBR felt that, given changing laws and attitudes toward this ancient plant material (notwithstanding the unprecedented number of beneficial components present), CBR should provide for the processing of hemp/cannabis.  With full acknowledgment of and respect for the religious or moral views still present with many people against marijuana*, we decided to restrict hemp/cannabis processing to a specialized division of the Missouri CBR Joint Venture, LLC.  We have dubbed this specialized division the Hemp-BioRefinery (HBR).  Most potential investors will be interested in the potential benefits of investing in the MO CBR JV, LLC, to process "traditional" feedstocks and biomass, as well as hemp/cannabis.  However, for those potential investors opposed to the HBR's focus or would otherwise prefer to see their support for a 'traditional' CBR, they may specify their preference when they decide to invest. 
*  Marijuana is generally considered to be derived from the leaves of a few particular varieties of cannabis and contains higher levels of the psychotropic bio-component, THC.  The HBR will focus principally on the cannabis sativa variety of cannabis and will process every molecule, including roots, stems, stalks, leaves and seeds, allowing no more than <3 % THC content, in accordance with federal guidelines.
Having said this, please be advised that:
Get started on the path of sustainability for your community's future. If you want to invest in the CBR innovation, feel free to get in touch with us.